Whether you are a beginner (A1, A2) or advanced (B1 or futhermore) German learner, letters and e-mails remain the number one conversant in written German and are therefore an important part of every language exam!
Our website offers you a lot of tools to help you prepare for the language exam in German.
In this article, we offer you an exam example (B1) and many sentence building blocks to write formal, semi-formal and informal (private) letters or e-mails.
Many of the phrases are ready also for the beginner levels A1 and A2!
A1 , nevertheless, focusses on short messages and private letters: "Einladungsbriefe" – invitation letters, letters in which you ask for help or information seeking letters.
Find the appropriate structure and useful phrases for levels A1-B1 in this "German letter writing guide chart":
There are also a lot of useful phrases for formal letters: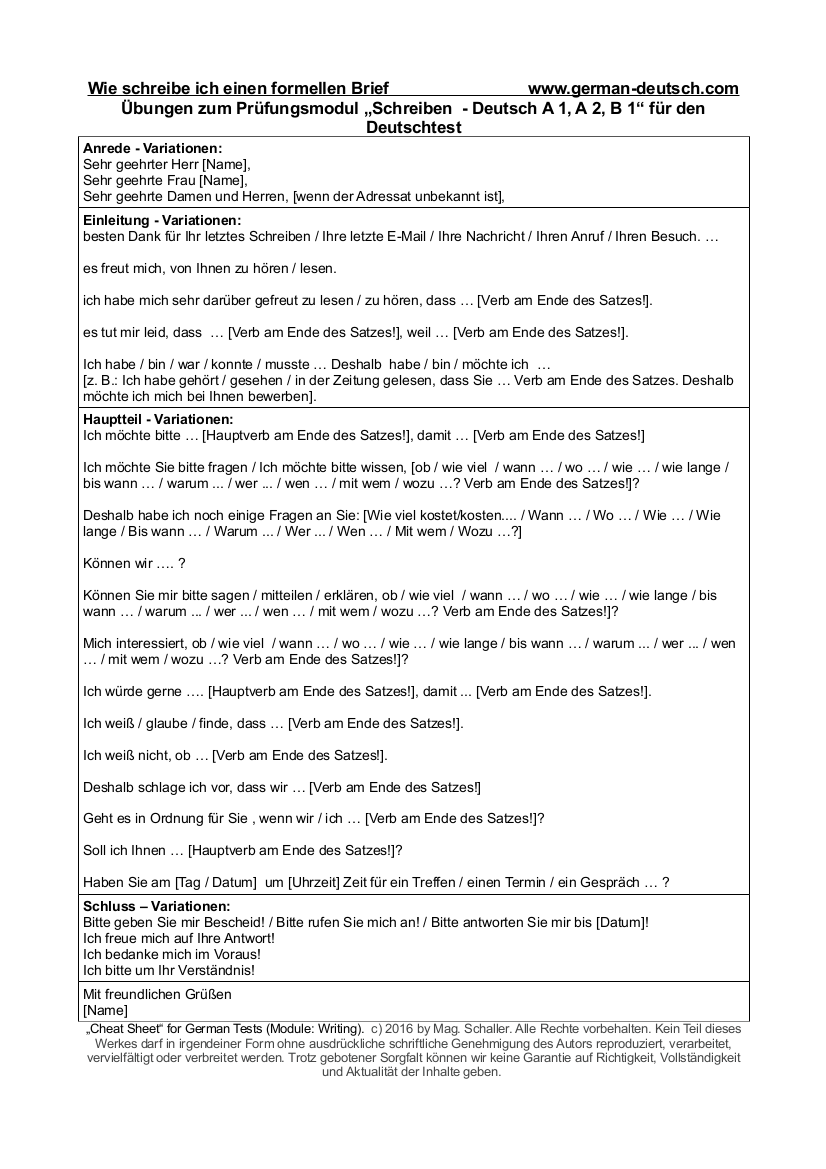 Finally, find a (semi-)formal example exercise for German language learners Level B1 and our corresponding video clip (also featuring an example for the oral exam)!
B1-Brief "Mithilfe beim Sommerfest"

Ihr Nachbar Herr Burger veranstaltet nächsten Samstag Im Auftrag Ihres Stadtteils ein Sommerfest im Park. Sie wollen bei der Vorbereitung des Fests helfen und auch etwas mitbringen. Schreiben Sie eine Nachricht an Herrn Burger.

Schreiben Sie etwas zu folgenden vier Punkten:

*Grund für Ihr Schreiben,

*wie Sie helfen wollen,

*was Sie mitbringen wollen,

*wann Sie Zeit haben.

---
Lieber Herr Burger,
ich habe erfahren, dass auch dieses Jahr wieder ein Sommerfest im Park gefeiert wird. Das ist eine tolle Sache! Besonders meine Kinder hatten letzten Sommer sehr viel Spaß bei der Feier. Da Sie ja für die Organisation zuständig sind, möchte ich fragen, ob Sie vielleicht noch Hilfe benötigen.
Ich habe am Freitagabend Zeit und kann gerne wieder beim Aufbau der Showbühne und des Buffets helfen. Am Tag der Veranstaltung kann ich Sie bei der Durchführung von Spielen für die ganze Familie unterstützen.
Wenn Sie möchten, bringe ich auch meine Stereoanlage und mein Mischpult mit, damit wir zu guter Partymusik tanzen können. Gerne nehme ich auch Fleisch mit, das wir dann grillen und den Gästen anbieten können!
Ich freue mich schon sehr auf das Fest. Bitte geben Sie mir Bescheid, ob und wann ich helfen kann!
Mit freundlichen Grüßen
Pedro Sanchez
(Visited 968 times, 1 visits today)